Have The Coolest Holiday with ABOMINABLE on Digital now and 4K, Blu-ray December 17
Tuesday 03 December, 2019
Universal's Abominable will release a variety of home media formats starting on Dec. 3rd with an early Digital arrival followed by Blu-ray, 3D Blu-ray, Ultra HD Blu-ray, and DVD on Dec. 17th, 2019.
When teenage Yi (Chloe Bennet, Marvel's Agents of S.H.I.E.L.D.) encounters a young Yeti on the roof of her apartment building, she and her friends, Jin (Tenzing Norgay Trainor) and Peng (Albert Tsai), name him "Everest" and embark on an epic quest to reunite the magical creature with his family at the highest point on Earth.But the trio of friends will have to stay one-step ahead of Burnish (Eddie Izzard), a wealthy man intent on capturing a Yeti, and zoologist Dr. Zara (Sarah Paulson) to help Everest get home.
Abominable's home media release will come with a bunch of extras including deleted scenes, commentaries, and cast introductions, and several more featurettes. Not all digital purchases will offer extra bonus material so be sure to check with your favorite service before purchasing.
Special Features
DreamWorks Short – Marooned
Show and Tell
Deleted Scenes with Intros by Writer/Director Jill Culton and Co-Director Todd Wilderman
Making a Myth (Movie)
Animating Abominable
Meet the Cast
Your Yeti Care Guide
Courage to Dream
An Abominable Tour Chloe Bennet
Everest's Talk Box
Cooking with Nai Nai
How to… Abominable
You Can Speak Yeti-ese
Nai Nai Says
Feature Commentary with Filmmakers
Show and Tell
An Abominable Tour with Chloe Bennet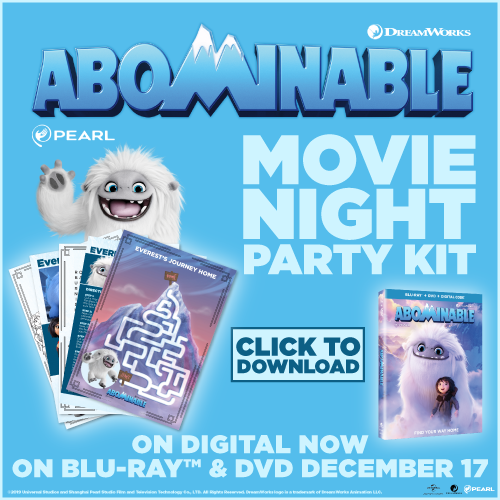 Make your night an Abominable Movie Night with this awesome party kit filled with tons of downloadable activities, coloring sheets, and more! Download it at http://bit.ly/AbominableMovieNight ABOMINABLE is on Digital now and arrives on 4K Ultra HD™, Blu-ray™ & DVD 12/17!
This magical journey is brought to life with the voice talents of Chloe Bennet ("Marvel's Agents of S.H.I.E.L.D"), Golden Globe® and Emmy® Award winner Sarah Paulson ("American Horror Story"), Eddie Izzard (Cars 2), Tenzing Norgay Trainor ("Liv and Maddie"), Albert Tsai ("Fresh Off the Boat"), Tsai Chin (The Joy Luck Club) and Michelle Wong ("Scandal"). It is written and directed by Jill Culton (Open Season, Toy Story 2, Monsters, Inc.) and co-directed by Todd Wilderman (Open Season 2). The film is produced by Suzanne Buirgy and Peilin Chou.
Website: http://uni.pictures/Abominable
Trailer: http://uni.pictures/AbominableTrailer
Facebook: https://www.facebook.com/AbominableTheMovie/
Twitter: https://twitter.com/dwanimation
Instagram: https://www.instagram.com/abominablemovie/
Hashtag: #AbominableMovie
ABOMINABLE on Digital now and 4K, Blu-ray December 17