A CLASSIC FAIRY TALE GETS A MODERN TWIST: RED SHOES AND THE SEVEN DWARFS
Thursday 17 September, 2020
Dreams really do come true! In celebration of the Blu-ray and DVD release of the new family film, Red Shoes and the Seven Dwarfs!  A new animated story of a classic fairytale that gets a modern twist, "This Snow White meets The Wizard of Oz meets Tangled tale is a delight!" – The Dove Foundation
This action-packed animated adventure Red Shoes and the Seven Dwarfs, premiering on Digital and On Demand September 18 and available to own on Blu-ray™ and DVD September 22 from Lionsgate.
TRAILER

Synopsis: This outrageous fairy tale spoof starts as Snow White steals a pair of red shoes that transform her into a princess. Meanwhile, a witch's curse turns seven brave princes into dwarfs, forcing them to seek out the princess, hoping for a kiss to break their spell. Together, they must face Snow White's wicked stepmother – who will stop at nothing to get her precious shoes back – and, along the way, learn that true beauty lies within!
Go behind the scenes of this must-own animated adventure with enchanting Blu-ray and DVD bonus features, including two "making-of" featurettes and two music videos featuring the all-new original songs! The Red Shoes and the Seven Dwarfs Blu-ray and DVD will be available for the price of $21.99 and $19.98, respectively.
BLU-RAY / DVD / DIGITAL SPECIAL FEATURES
"The Making of 

Red

 

Shoes

 and the Seven Dwarfs" Featurette
"From Storyboard to Animation: Creating 

Red

 

Shoes

 and the Seven Dwarfs" Featurette
"Start of Something Right" Music Video
"Something So Beautiful" Music Video
PRINTABLES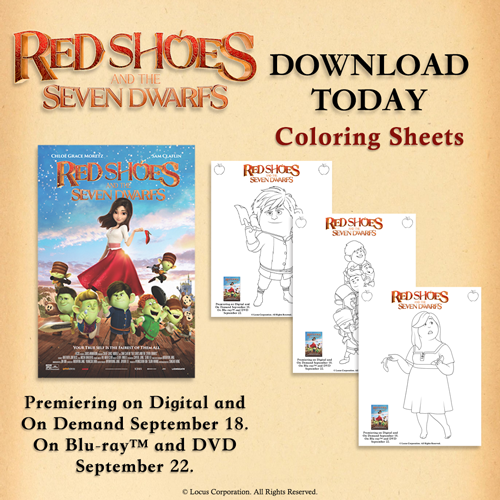 Add a bit of magic to coloring time with these super cute coloring sheets! RED SHOES AND THE SEVEN DWARFS is now premiering on Digital and On Demand in homes and castles far, far away, and on Blu-ray™ and DVD September 22! http://bit.ly/RedShoesColoringSheets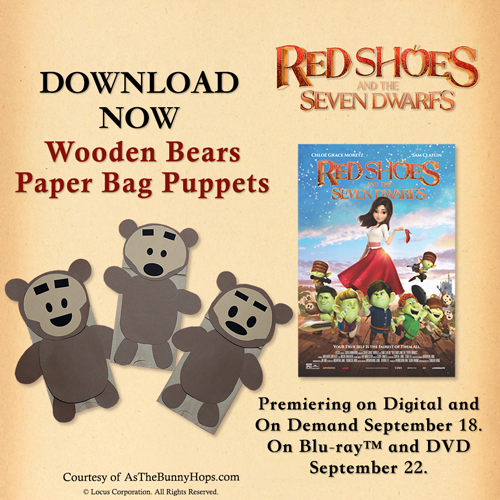 Make your own fairy tale friends with this fun and easy craft! RED SHOES AND THE SEVEN DWARFS is now premiering on Digital and On Demand in homes and castles far, far away, and on Blu-ray™ and DVD September 22! http://bit.ly/RedShoesBearPuppets

Red

 

Shoes

 and the Seven Dwarfs Premiering on Digital and On Demand in Homes and Castles Far, Far Away September 18 on Blu-ray™, and DVD September 22