Press Conference: Disney/Pixar's voice stars for the film 'Luca'
Thursday 17 June, 2021
Luca is set in a beautiful seaside town on the Italian Riviera and is a coming-of-age story about one young boy experiencing an unforgettable summer filled with gelato, pasta and endless scooter rides. Luca shares these adventures with his newfound best friend, Alberto, but all the fun is threatened by a deeply-held secret: they are sea monsters from another world just below the water's surface.
TRAILER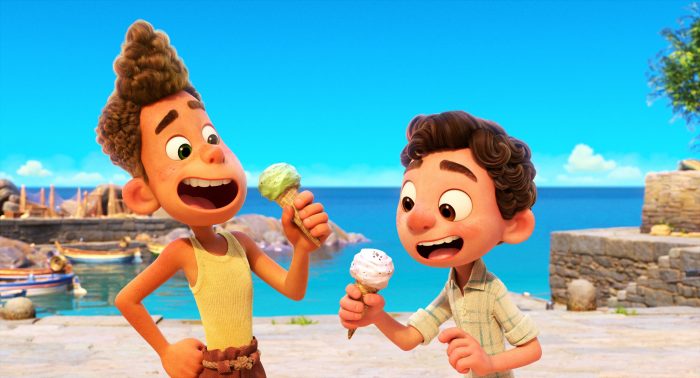 To discuss more about the characters of Luca and what it all means, a panel of cast and creatives met for a virtual press conference.  In attendance were Jacob Tremblay (voice of "Luca"), Jack Dylan Grazer (voice of "Alberto"), Maya Rudolph (voice of "Daniela," Luca's mother), Jim Gaffigan (voice of "Lorenzo," Luca's father), Emma Berman (voice of "Giulia"), Enrico Casarosa (Director), and Andrea Warren (Producer).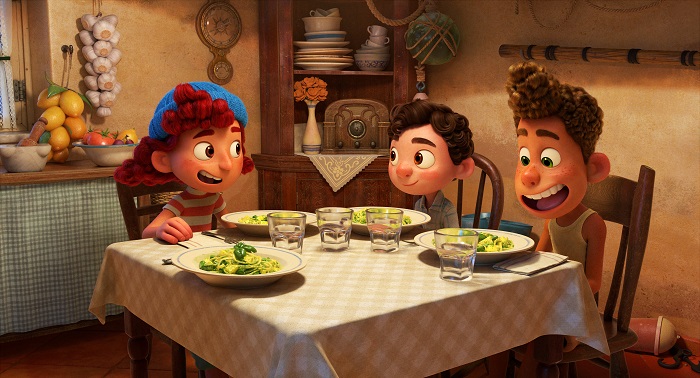 Press Conference highlights:
THE CHARACTERS
Jacob Tremblay (Luca):  So, when you get to meet him at the beginning of the movie, Luca, he's a bit more of a timid kid.  He really wants to be able to explore the human world, but his parents have a lot of restrictions for him.  But he meets his great friend Alberto, who helps him kind of step out of his comfort zone.
Jack Dylan Grazer (Alberto): I think the aspect of curiosity is across both of them, but Alberto definitely has got no restrictions.  He's so eager, and he's so yearning to explore and fulfill all these fantasies and curiosities that he has.
Emma (Giulia): She's a very strong character.  She's determined, and she's hardworking and genuine, and intense.  But she's also awkward, and quirky, and goofy.  And I had a really fun time playing her because I relate to her in a lot of ways.  That we're both passionate about what we do, and we're also very, like, excited and joyful people.
LUCA sea monster design
Maya Rudolph (Daniela): She's a very serious mom.  She's not messing around, and that, to me, instantly in this movie's case, just equals love.  That protection, that strong discipline is love and wanting to raise her family right. And there's a certain way that Luca's family is meant to do things, and she wants to raise her son the correct way.  But what you come to learn about her, is that she also is really protecting him from what she already knows to be dangerous in the world.  And, you know, just like any parent, she's a fierce, fierce protector, which some might say is tough love, but I mean, I think she gets all the passes.  Because you know she loves her son.  There's no question.
I think deep down, she knows her son is probably going to explore. But she's just trying to protect him because it's the scariest thing in the world to let your babies run out in the world and explore.  And even though you know they need to, it's terrifying, you know?  And, I think all parents go through that at some point.  It might be one of the most terrifying aspects of having children, is knowing that they have to go out into the world, and yet just kinda holding on for that.  Like, it's less about your child than it is about what the dangers of the world are.
Jim Gaffigan (Lorenzo): I think Lorenzo is, well-intended, but definitely distracted, and I think that most parenting partnerships, it's a negotiation on how to raise a child.  So, I kinda played Lorenzo…I mean, I'm kind of overwhelmed, hopefully well-intended as a parent.  And so, I kinda brought that in and I think he might be–Lorenzo might be distracted, but he's not disinterested.
The stars describe what it was like making this film during quarantine.
Andrea:  I mean I think when the pandemic hit and we were all sort of realizing that we had to work from home, one of my biggest concerns was how are we gonna record, you know, everybody. Um, so I really have to, um, uh, thank this group and-and everybody at Pixar who sorted it out. Because it involved sending iPads and microphones, and everybody testing out spaces in their houses where the sound would be baffled. And you know, um, I'll never forget you Jack, especially in your-I think your mom's closet. You know, and your arms hitting the hangers, and-and you know, we're all trying to, uh, you know, press the right buttons at the right time. I mean it's tricky, you know, to be acting and be your own tech, um, and-and all of us trying to sort it out.  And even Zoom, you know, is tricky 'cause sometimes it cuts out and somebody's just performed something, and you're like, well I bet it's good.  I don't know. You know?  So you're trying to respond and…  So it was definitely tricky.
Jack:  Um, well, being in my mom's closet for a year, uh, yeah, totally, it was definitely a stretch for me, a challenge for me as an actor, um, and as just a human being.  It got hot in there.  And I bet my-my-my neighbors were really freaked out about the-the amount of screaming that was going on from my house.  [LAUGH]
Jacob:  I was very, very lucky because I actually started recording before, you know, COVID hit. So I was able to go into the San Francisco studio, and you know, they gave me the tour… But then, you know, COVID happened and I was actually originally gonna record at my house, but, um, the plans kinda changed and then I got lucky and then I was able to record at the studio in Vancouver.
PROFOUND FILM'S MESSAGES
Andrea Warren (Producer) : I think it's amazing to have such a wide audience around the world, and we do think a lot about the messages that are in the film…for me, that notion of the meaning of friendship really resonated.  And I think they are a few really beautiful themes in the film, one being sort of 'Silencio Bruno,' and how we all have these inner critics and how you sort of overcome that sense of doubt.  And, you know, Enrico and I keep saying, you surround yourself in life with some Albertos.
Jacob: I think, honestly, the overarching message in this film is being comfortable in your skin and not dressing the part for anybody but yourself, and just being at peace with your authentic self.  Not having to hide, or be ashamed of who you truly were born to shine as.  And also finding the right friend who can lift you up and help you evolve in that way.
Emma:  "I mean, there's so many incredible messages that this movie tells and shares, but I think one thing that we can all learn from Giulia is how she just keeps trying.  She joins the Portorosso cup every single year, and she doesn't win, she just keeps pushing, and for me, that relates.  Like, keep auditioning for acting. Don't get a job, keep auditioning.  Don't get that job, keep auditioning.  And I think that we can all take that into our personal lives no matter how old we are or what our careers are."
The meaning of Silenco Bruno
Jacob: I think it's one of the most crucial things you could ever learn in your life.  It's just, like, the elimination of doubt.  I got rid of my Bruno eons ago.  I haven't had a Bruno for years. I mean, I myself have always been a really impulsive decision-maker.  Like, there's two ways that things could go:  There's terrible, or it could be wonderful.  And I choose not to think long enough about the thing to think about how terrible it could be. And it might end up being a terrible decision, but I'm hoping for wonderful.
Disney and Pixar's Luca begins streaming on Disney+ on June 18, 2021.
Related Posts